If you can dream it, I can design and Build it!
From innovative and personalized designs tailored to your backyard, to the finest expert care, maintenance and accessories, Your Pool Pal LLC has earned the trust and praise of Southern New Hampshire residents.
Our team at Your Pool Pal brings their uncompromising standards of excellence and dedication to designing every in-ground home pool. Their experts can customize shapes, contours, depths and designs to accommodate almost any space or desire, with each installation uniquely created by our experienced team.
Make your dream of sparkling waters and stylish patios come to life with the help of our designer, who will work directly with you to create an ideal backyard oasis, complete with all accessories and required safety features. We will take the time to understand your wants and needs, and craft a blueprint based on your individual space.
Our painstaking attention to detail and years of experience as Southern New Hampshire's premier pool installation and design experts has earned Your Pool Pal the praise of countless homeowners. See the quality of our work for yourself! Explore the images below to get a sense of the installation process and important points to consider when adding a pool to your family's fun, You can contact us today if you have questions that need answers, or to schedule a personal consultation at your home.
Above & below are some easy to follow photos. I would like to point out that this pool is built and designed to receive a Cantilever Paver patio. It's extremely important to determine the patio type before building the swimming pool. This will ensure the pool and patio will work good together without problems. Please look at the pavers edge of the pool above (zoom in close) Can you see the mortared joints between each paver?. This is real mason work, You get real craftsmanship that is rarely found these days among other pool contractors.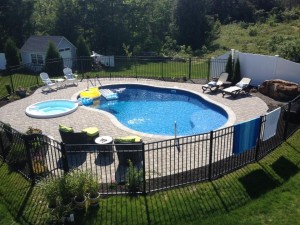 Because this pool above is built to have a Cantilever Paver edge and paver patio installed on it, It's important not to install any deck bracing on the pool.#1. After the pool has been leveled and squared a concrete footing is poured around the entire pool at the base (Not shown) and about 6″ up the wall from the bottom to lock the pool in place. #2. The material used to back-fill the pool must be free of any clay and oganic matter having good drainage. #3. the suitable back-fill material (Clean sand) must be placed in 12″ or less lifts leveled out then compacted. #4. the last lift used should be 3/4″ processed gravel, an 8″ lift compacted down to about 6″ using water.This will provide a firm suitable area to put the pavers down. #5. The pool will need to be locked in at the top using concrete. This will provide strength at the top of the pool and provision to attached the Cantilever Pavers to the edge of the pool. After the pool had been back filled, a trench about 12″ out and 18″ deep was excavated a form was placed and concrete was poured into the form locking in the entire pool.
The photo's below are actual picture I've taken from pools that have been built here in NH. I am using these photo's so you will have examples of pools built by other contractors who did not take measures to insure the pool would have a long life.
above: The photo's show you pools that are damaged because they were built without deck braces to accommodate a one piece concrete patio. Deck bracing is needed for several reasons. 1st, because we live in a freeze thaw climate. 2nd to support the pool patio and help keep it from cracking do to frost heave, settling or other movement. 3rd it will prevent walls from caving in from the pressure of the frost during the winter. (it holds the top of the pool wall in place. There's more to it, I will tell you all about it when we meet.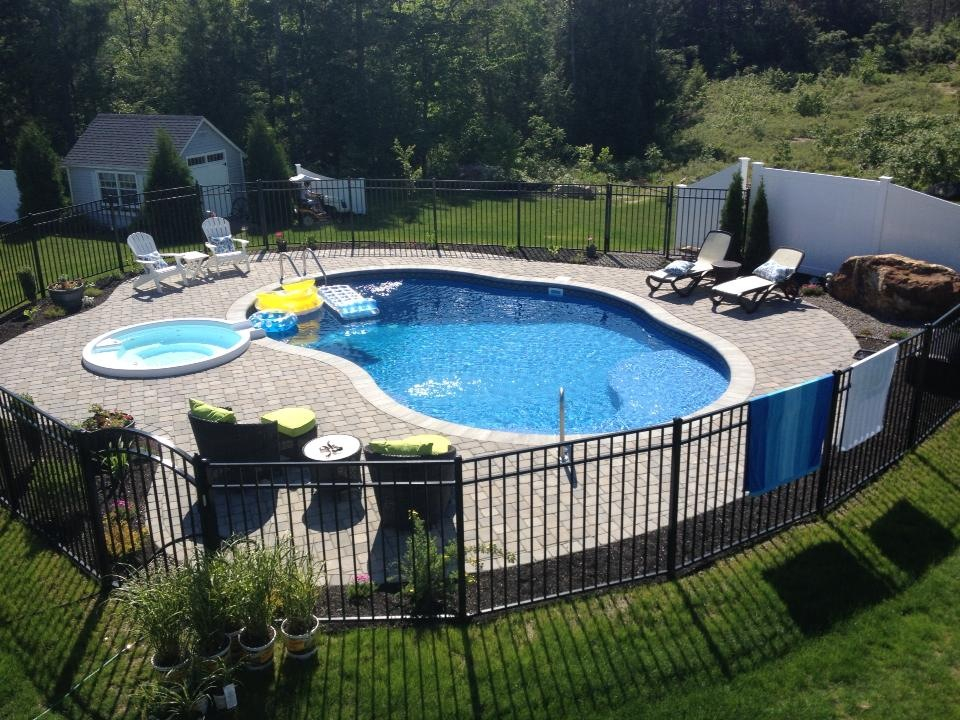 This is what the pool looks like after is has been completed
Above: 2″ plumbing doubles water flow. All plumbing straight down locked into concrete below frost line. No cutting or splicing of pipes. Entire Pool, Plumbing, Skimmer and Returns tide together as one unit, back-filled and compacted. Nothing moves, nothing breaks, nothing leaks. I Like it! I built it! Done Right!